The Him and I have come to understand that we are now grownups in the chronological if not intellectual sense.
We are slightly post-Boomer so we have been used to being either granchildren or younger siblings in the greater schema of American culture. This has tended to compound the natural human delusion of perpetual youth.
But the wolf is at the proverbial door.
The principal delusion-puncturing device is our
Hold on a minute.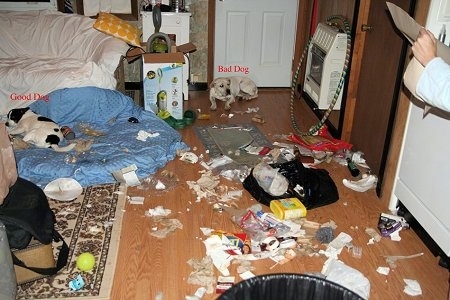 ***
Thanks. The dogs were into the trash, I hied thence and banished them to Padua.
Close approximation of their work
I was trying to say that lately we keep hurting ourselves in the most laughably mundane ways.
A sampling:
-sneezing
-turning over in bed
-carrying a pillow
-turning around
-yawning
-standing up
-folding a shirt
None of these injuries requires medical treatment or even a bandaid, but when performing an action as simple as the above causes something to go sproink and all hurty, I can't help but be astounded and a little angry, I mean
WHAT THE HELL?
Suddenly the comments of elderly friends and relatives take on sinister hues; one extrapolates the trend and realizes that when they say it hurts to walk, they may mean it HURTS. As in actual, nauseating, I'm-not-getting-out-of-this-chair-and-you-can't-make-me PAIN.
Empathetic fear is a good thing, I guess, if it makes us more compassionate. What I regret most about my sense of humor and my impulse-control deficits is that the combination makes me seem callous.
My mordant sense of humor does help me cope but sometimes it opens a little window on something frightening. I've noticed that as the decades accumulate the "firsts" among one's peers get darker. That joke about introducing the person you're married to as your first spouse gets more painful, making it either truly funny or tasteless, depending on one's disposition. When we were thirtysomething a friend died in a car accident and I made the comment that this was our first dead friend. Fear that deep makes me laugh, I don't know why, maybe it's chimp wiring that makes a scream indistinguishable from laughter.
In a few weeks we will know what it's like to lose a friend to cancer. It is essential to acknowledge that what is happening to her is far more important than what I feel about it, I'm not asking for sympathy. I'm laying the groundwork because this is the place where I can blurt those awful connections my mind makes, so that I don't blurt them at a time or place that severs yet another relationship.
So I'll be getting back to you soon. It will be something really, really funny.